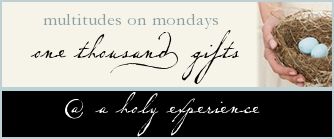 I thought that with the New Year I might revamp or rededicate myself to blogging (was I ever REALLY dedicated?), and that I would post an entry about it first thing this new year. But then I read Ann's post today, and I was reminded that what I really need to do "first thing" is give thanks.

So many gifts as we enter 2011...
33. A casual New Year's Eve dinner with friends who understand that I have to sit on the couch with my head leaning on my fist to make it to 12:00AM.
34.
Hoppin John
, because I really didn't feel like roasting a pork loin.
35. The cookies are almost gone (yup, that's a GOOD thing).
36. Jesus Christ is the same today, yesterday and forever (Heb 13:8). That means Emmanuel always has been and always will be.
37. My new slippers. I've never owned slippers as an adult. Now I'm making up for lost time.
38. Menu plans, clean calendars, new lesson plans.
39. Little guy saying to me "now that Grandma's gone, you get all the snuggles". I mean, I miss Grandma and everything, but that sure helps!
40. A calling this new year to focus on His presence and seek His face. And the promise that I'll find Him.
41. My sweet husband's unemployment means he's home, and it's way better than I thought it would be.
42. Big guy's willingness to eat kale soup without complaint.
43.
A new devotional
.
44.
A finished nove
l. (Read, of course, not written)
45. This winter's pace, with time to stop, to linger, to listen.
More gifts of can be found at
A Holy Experience
.