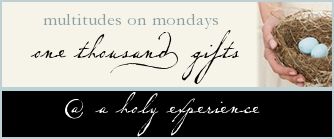 Shortbread turned six on Saturday, and after hosting a few little friends on Friday, we had a quiet family dinner complete with his birthday cake choice: coconut cream pie.


I am struggling a bit with the thought that if "we" are now six, "we" are no longer very young.

Seems that something helpful might be to focus on the multitude of things about my no-longer-very-young baby for which I am thankful. I'll dedicate this list of gifts to him:

46. his most frequent complaint or request: he wants to snuggle

47. his huge missing-tooth smile and his mousy brown hair

48. his "I love you" after asking "Mama?"

48. that he still has a wet thumb, a threadbare blankie (that smells vaguely of puppies and cheese), and a holdable frame

49. his wonderful creations, especially the ones he's made for me: bracelets, colored paper flowers, and the double-stick tape purse (It's picked up a little hair by now.)

50. that he counts his brother as his best friend and a perfectly wonderful sleep-over buddy (who would never make fun of his thumb or his blankie).



Happy Birthday Moochie!! XXXXXXXXXXXXXXXXX

To join in listing your gifts or enjoy what others have to share, go to A Holy Experience.