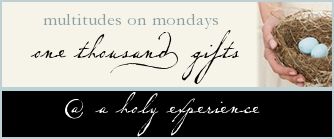 Squeezing in some time on the computer while my husband takes a break, so that I can give thanks for:

71. gap-toothed smiles

72. flowers carried home from a "guys' trip" to the mountains, now wilted, more beautiful for making it all the way home

73. a call from the son of the woman who we visited for the years before her death - he's found the funny papers she saved for the boys

74. alone time, praise music, updated lesson plans

75. a full bird feeder and a growing 2011 backyard bird list

76. Bach, tea, and poetry with the boys

77. clean counters

78. dermatology (we are a family with skin issues)

79. good tumor marker numbers and spirits in a precious pastor with cancer

80. a job for my husband!!

Check out A Holy Experience for a lot more gratitude.