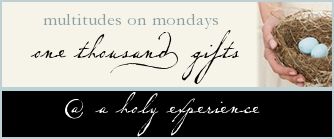 It's been awhile, so I can't fit my gifts into a neat list of ten (He gives more gifts that I'm comfortable with).

So thankful for...

81. An evening alone with Shortbread

82. Shortbread's desire to pick a specific dandelion outside the car door, even with scores of others around - his response to that observation: "But that one's so pretty!"

83. A day of tears, frustration and anger ends with grace, laughter and pillow-fighting

84. Bradley turning around to wave to me during his humanities class while I'm grading papers

85. Finding Shortbread's baptism DVD and seeing that toothless grin and kicky legs

86. Before breakfast calm as Bearclaw reads on the sofa and Shortbread works on some new creation at the table

87. The grace to help the child who is unable to quiet his heart and body find peace again

88. The grace of forgiveness for all the times (years) I met the older child's rage with more rage

89. A weekend warm enough for snow cones

90. Neighborhood playmates

91. New schooling options for struggling friends

92. A shortcut for hubby's new, long commute

93. A zoo day for boys who adore animals with grandparents who adore them

94. Lunch with a friend who understands and seeks understanding

To count along or celebrate others' blessings, go to A Holy Experience.